<!– Place this tag in your head or just before your close body tag –> <!– Place this tag where you want the +1 button to render –>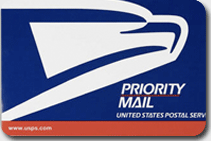 When you first start to sell tickets on eBay, you might not know of all the different ways you can ship your tickets to your buyers. Unlike StubHub, eBay lets you ship your tickets any which way you want, as long as you inform the buyer beforehand.
The most popular ways to send your tickets are via Fed-Ex, UPS, and USPS.
The Most Expensive Way
If you check out the most popular ticket sellers on eBay, you'll see that many of them (maybe even a majority of them) send their tickets via Fed-Ex. Fed-Ex is known worldwide to be a safe and reliable way to ship goods, and big-time ticket brokers with millions of dollars in tickets being sent out every year trust Fed-Ex with their money.
On the other end of the spectrum, we have…
The Cheapest Way
As a beginner ticket broker, though, you might think to yourself, "Hey, I don't have the money for Fed-Ex or UPS; I'm sticking with USPS." This was my mentality when I first started out. I remember going out to Staples and buying packs of 100 standard white envelopes and books of regular stamps to go along with them. I guarantee you that this is by far the cheapest way to ship tickets on eBay–less than 50 cents per order.
If you absolutely need to cut costs at every single corner, this is a shipping method that can't be beat. However, there was a huge hole in this strategy that was leaving me and my business wide open for abuse.
By not providing any tracking information, I had no way to prove that I ever sent the tickets.
Things get lost in the mail all the time. It's never happened to me, but if I kept on with my super low-cost shipping strategy, I'm sure it was going to happen eventually. And not only that, but I was leaving myself vulnerable to buyers taking advantage of me. Any buyer could have filed a claim on eBay against me saying that they never received the tickets, even if they did! And you know what would happen? They would get a refund, every time. eBay has a Buyer Protection Program which basically says that the burden of proof is always on the seller in cases like this.
So what to do? Should you just do what the big boys are doing and ship Fed-Ex? I'm here to teach you that there is a way to ship your tickets via USPS cheaply, reliably, and even get free USPS Delivery Confirmation while you're at it. No, it won't cost you 50 cents, but it will cost you about one third of the price of Fed-Ex and you'll never have to worry about buyers filing any kind of claims against you.
Let me show you how it's done.
The Best Way
When you receive payment for your tickets via Paypal, you'll see this in your Paypal statement:

Click on Print Shipping Label. On the next screen you'll confirm the shipping address and method.
Here's the crucial step:

Make sure to stock up on USPS Flat Rate Envelopes because from now on, you're going to send all your tickets via USPS Priority Mail. And this is why:

This little perk (thanks to Paypal) is going to give us the peace of mind that no buyer can ever file a claim against us for not receiving our tickets because we'll have a unique delivery confirmation code ready to show for each and every ticket we send. Awesome.
The rest is easy: click Pay and Continue and Print your shipping label. Tape it to the front of your USPS Priority Mail Flat Rate Envelope, slip the tickets in the envelope, and drop into any mailbox. Couldn't be easier. As of November 2010, this service will cost you $4.75. Compared to our $0.50 deal from earlier, this might seem like a lot to pay. But consider the possibility of just having to refund a single order because a buyer claimed he never received his tickets. Since you'll never get those tickets back, you're going to lose 100% of the price you paid to purchase them, which can be hundreds of dollars. Now that's a bad deal. And hey, if you really hate to spend $4.75 to ship your tickets, you can always set your shipping costs at $4.75 on your eBay listing.
What I do
Personally, I choose to give buyers free Priority Shipping and give them the option to upgrade to any other shipping option they choose (Express Mail, Fed-Ex, etc), as long as they pay the extra charge. Buyers will spend more on your tickets if they see that you offer free shipping and it gives your business a better reputation for providing excellent service to your customers.
I can't stress the importance of that last point. Music and sports fans tend to be clingy with their ticket brokers. Once they find a broker they trust, they often like to stick with them. This makes sense given how many shady brokers there are out there. The way to survive in this industry is by proving yourself to be a broker who provides value and reliability. Shipping your tickets with Delivery Confirmation is just one more way to prove your worth as a ticket broker.