<!– Place this tag in your head or just before your close body tag –> <!– Place this tag where you want the +1 button to render –>
Even after being in this business for so long and really learning how to be a ticket broker, I still find myself in situations that are completely unexpected. Ticket brokering is a very learnable and masterable business, but you always have to keep your eyes open because there are so many variables to take into account.
Take the example of seating charts. I always make sure to include an image of the seating chart in every eBay listing I put up, so you can imagine how many seating charts I've had to hunt down, copy, and paste. Hundreds. But habit can be your worst enemy, because you'll begin to miss things like this: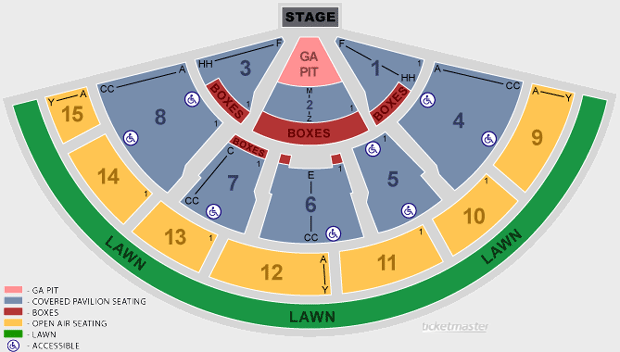 This is the Comcast Center.
If you look closely, you'll notice something strange about this venue. The section numbers look normal and ordered in the right way. It's easy to miss at first glance, but take a look at those row numbers.
Row F is the very first row in Sections 1 and 3.
Row M is the first row in Section 2.
Row C is the first row in Section 7.
What the?
Always double check
Who knows why the people who designed the Comcast Center decided to designate these Rows the way they did. Maybe this is only the case for General Admission Pit shows? Whatever the case may be, you'll need to be on top of all this if you're planning to learn how to sell concert tickets online.
When it comes to the Comcast Center, pulling Section 3, Row F tickets are possibly the most profitable tickets you could probably buy. But if you hadn't checked out the seating chart beforehand, you would not have known that.
Be specific
Many beginning ticket brokers think that each concert venue has just one seating chart, and this can cost them big time.
The truth is, each concert has a seating chart.
Bon Jovi likes to have a Pit, with Floor sections behind them.
Daughtry likes to have a catwalk, with Floor sections to its left and right.
John Mayer likes to have reserved seating right in front of the stage.
Each artist has their own style and each venue will try to accommodate that style as best they can. Never assume that because the show is taking place at the Wachovia Center that you can just look up "Wachovia Center" in Google Images and be all set.
Where to find show-specific seating charts
In my experience, there are three ways to find seating charts that are specific to a particular show.
Ticketmaster
Although these charts are the prettiest, be warned that they are not always accurate. They get it right most of the time, but you'll have to check with at least one of the other 2 resources (which I'll soon mention) to verify that Ticketmaster is accurate.
At the ticket buying window, Ticketmaster will show you something like this: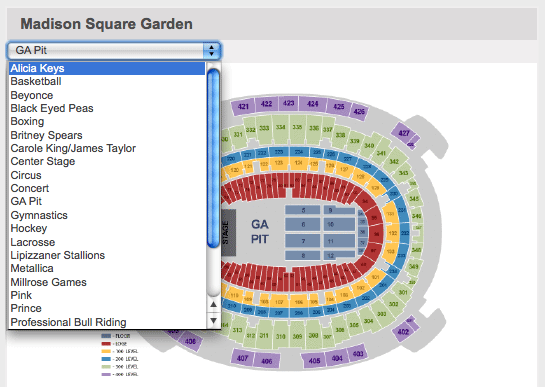 In many cases, Tickemaster will already have selected the artist that you're looking to buy tickets for, but not always. If you don't see the exact artist name on that list, you cannot be sure that Ticketmaster is giving you an accurate seating chart.
So, Plan B.
StubHub
These seating charts aren't as pretty as Ticketmaster's, but they're pretty much always accurate. If StubHub's seating chart disagrees with Ticketmaster's, I would trust StubHub's every time, especially if the artist name was not on Ticketmaster's list.
I'm not quite sure why StubHub and Ticketmaster sometimes disagree on seating charts, but I assume it's because StubHub offers an interactive seating chart and Ticketmaster does not. In other words, if StubHub's seating chart is wrong, sellers will immediately start to complain because they will be unable to submit their listing, or worse, they will be forced to submit it inaccurately. So it's in StubHub's best interests to always provide accurate seating charts.
If Ticketmaster provides an inaccurate seating chart, I guess their response would be, "Well, you should have double checked with the venue."
And speaking of which…
Double checking with the venue
This is the third and final way to confirm the accuracy of a seating chart. You'll almost never have to resort to this, but it's a good tiebreaker. But a word of caution:
Do not trust the stock concert seating images they give you on their website. If you want to be absolutely sure, you must call them up yourself. In all my experience as a ticket broker, I've only had to do this once, but it will save you a big headache later on. If the Sun National Bank Center representative tells you that on June 20, the Daughtry show will have a catwalk with Sections 1 and 2 to its left and right, that's all the verification you need.
And yes, this is exactly what happened to me. The stock seating charts on their website showed Sections 1, 2, and 3 right in front of the stage. But since Daughtry used a catwalk, Section 3 had to get pushed to the back. If I hadn't called them, there was no way for me to know. (As usual, StubHub had it right in this case.)
Conclusion
Seating charts can be tricky. Next time you pull a Row F, make sure you didn't just pull tickets for the front row! Those would be a shame to toss back. And all you have to do is check.