<!– Place this tag in your head or just before your close body tag –> <!– Place this tag where you want the +1 button to render –>
One of the most common questions I get is, "How do I know which tickets to buy? Which tickets will make money?" It's a good question, and one that took me months to figure out how to answer.
I mean, it seems impossible to tell at first. Will fans really be amped up for that upcoming Michael Buble tour? Will they be willing to spend more than $300 on a pair of seats in the Floor? What if the seats are in the 13th row? What if they're off to the side?
The questions are endless, and to someone just starting to sell tickets on eBay and StubHub, the whole thing can seem really intimidating. But there's a very simple way to check and see if your tickets will sell for more than you bought them for. Although it's not totally fool-proof (nothing in this business is), it's the absolute most reliable method of finding out if your tickets will make you money.
How to Research an Event
If you're at the Ticketmaster purchase window about to click "Confirm," and you're wondering if your tickets will sell for profit, it's already too late.
You need to know all the necessary details of an event before tickets even go on sale.
You might be asking, "How can I know how much tickets will sell for before those tickets have even been released?" Well, sometimes you can.
Let's run through an example
Let's say you're signed up to receive all the latest free presale passwords via email and you're informed that Linkin Park is scheduled to have a show on Saturday, February 19, 2012 at the MGM Grand in Las Vegas, NV. You know that Linkin Park is a big name band and so you're interested in buying concert tickets to that show.
So far, so good.
You sign on to the Ticketmaster website and find the show. Ticketmaster shows you this information:
Clicking on "Price Range" also tells you this:

You check out Ticketmaster's map and you find out that it's a General Admission show. The question now becomes, "Which tickets should I buy in order to maximize my profit?"
To figure that out, we're going to consult our two old friends. The first being…
StubHub
Your first step will be to search StubHub for "Linkin Park MGM Las Vegas."

Although you're planning on Selling these tickets, you're going to click on "Buy" just so you can take a peek at the competition for this show. Don't worry about how these sellers listed tickets before they even went on sale to the public, just try to get a sense of what the prices are like: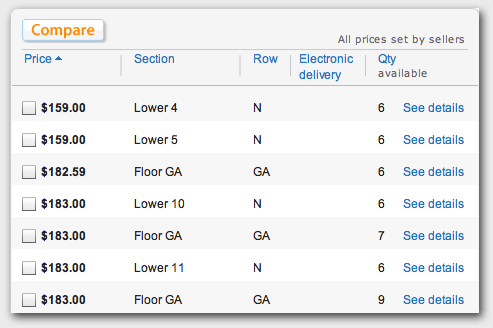 Right off the bat, you can see that General Admission tickets are selling for about $180 apiece. What I always do is run that number through my sales spreadsheet (the same one that comes with my ticket broker eBook).
If we assume that GA tickets are going to sell for $75 each (including fees) and that we could sell them for $180 each, we'd know that we'd stand to profit $156 from selling a pair of these tickets on StubHub.
But, let's go one step further. Check out the seating map that StubHub provides: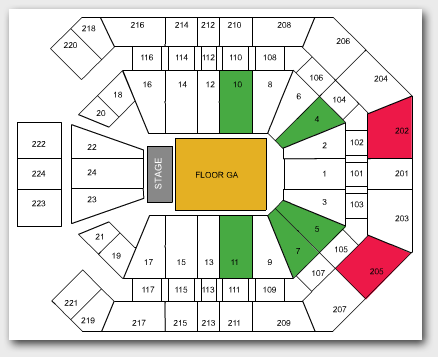 You'll see that no one is selling tickets for the elevated sections closest to the stage: Sections 14 and 15. Getting seats in the first few rows of those two sections will bring you tons of profits. This isn't something you could tell by looking at the picture; I just know through experience that those seats tend to yield the highest ROI (Return On Investment).
Why is this important? Because this show may be one of the cases where you don't want to choose Ticketmaster's Best Available option when tickets go on sale. Ticketmaster will return the best available tickets with regards to Ticketmaster price but for a ticket broker, the best available tickets are the tickets that yield the highest eBay/StubHub price minus Ticketmaster price. Sell Price for the – Price). In this case, it may be those elevated sections.
I say "may" because you just don't know for sure. Even if they are the greatest ROI, there's no guarantee you'll get tickets within the first few rows, or even get tickets in those sections, period. Pulling General Admission seats is a more reliable method of pulling because there are simply more GA seats to distribute, raising your chances of pulling a pair.
In these cases, it's your call. Do you want to go for the surer bet, or the high risk/high reward? In time, you'll begin to develop your own selling strategy. If you ask me, I'd still go for the GA tickets. But that's me. If I know I can make $150+ on a pair of tickets, I'm not taking a risk with anything else. I'm a very conservative broker, but you may not be, and that's OK, too.
Using eBay Helps, Too
StubHub isn't the only place you want to do pre-purchasing research. If you check eBay for "Linkin Park MGM," what you'll see is this: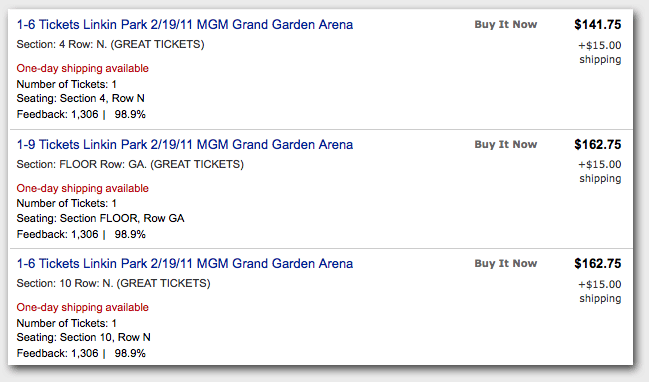 Just by doing this one simple check, you know that you can price your tickets for $162.74 and still be the cheapest deal on eBay for these tickets. Selling your tickets for that amount will net you a profit of $153. The profit is so similar because eBay's Final Value Fees are lower than StubHub, which makes up for StubHub's higher sale price.
A word of caution
In reality, the situation isn't quite as simple as I just explained. At the time of this writing, those tickets are still a month away from going on sale. A lot can change in a month. The price for those GA tickets will almost certainly go down quite a bit, and you're going to want to do one last check the day of the on-sale. You want the most up-to-date information possible when it comes to ticket research.
If you notice that prices for those GA seats go down to $99 a pop by the time tickets actually go on sale, don't be surprised. It happens all the time, especially with GA tickets where sellers form bidding wars of their own.
As a general rule of thumb, I try to never buy tickets unless they're being sold for $50 more than what they cost on the day I buy them.
$50 is a good number to use here because it covers fees and general misfortunes that will happen to spring up when you least expect them. If they're selling for $50 more than what I paid, I'm buying. But even then, nothing is guaranteed.
This is the method I use to decide whether I want to pull the trigger on tickets or not, and with enough practice, you'll begin to see that it is the best way to keep your profits high and your losses to a minimum.