<!– Place this tag in your head or just before your close body tag –> <!– Place this tag where you want the +1 button to render –>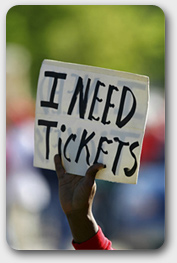 People who buy and sell tickets for profit are given many names: some call us ticket brokers, ticket agents, ticket resellers, and to some, we're just ticket scalpers.
Ticket broker? Cool, I kind of like that. Sounds professional.
Ticket reseller? Not as cool, but hey, it's not too bad.
Ticket scalper? Yuck.
There's a lot of confusion going around about what the difference is between ticket brokering and ticket scalping. I've been in the industry long enough to know the difference between these two characters. Let's try to set the record straight.
The Law
I will start off by saying that, legally speaking, the government doesn't distinguish between a ticket broker and a ticket scalper. In their eyes, we all buy and sell tickets for profit, except that some of us do it in legal ways and other don't.
The confusion between the two terms is mostly on the street. It comes up in conversations you have with your family and friends, or with strangers at a game or concert. It can come up when someone asks you, "So, what do you do?" Next time someone asks you that, you can point to these differences to show them that you're a ticket broker and not a ticket scalper.
Timing
Scalpers and brokers sell tickets at very different times relative to the event date.
Ticket brokers sell tickets days, weeks, and months before the event.
Ticket scalpers sell tickets on the day of, or just minutes before showtime.
Location
Scalpers and brokers sell tickets in different locations.
Ticket brokers sell tickets from their offices via the internet or telephone.
Ticket scalpers sell tickets outside of the venue where the event will take place.
Licensing
Brokers abide by state ticket brokering laws whereas scalpers ignore them.
Ticket brokers hold a ticket broker license if their state mandates one.
Ticket scalpers sell without a license, even if state law requires one.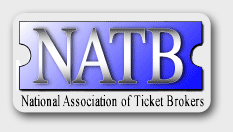 Ticket brokers are also often members of the National Association of Ticket Brokers, which offers them further levels of social, ethical, and legal legitimacy that scalpers are unlikely to provide.
Legitimacy & Refund policies
Brokers guarantee that your tickets are authentic (or your money back); scalped tickets are not guaranteed.
Ticket brokers promise to provide authentic tickets or your money back.
Ticket scalpers sell you tickets with no guarantee of authenticity or a refund.
Taxes
Ticket brokers report their earnings with the government; scalpers profit "under the table."
Communication
Ticket brokers and ticket scalpers differ in their level of communication.
Ticket brokers provide multiple methods of contact such as email, phone, or a physical address.
Ticket scalpers usually offer no method of contact before or after the transaction takes place.
Who are you?
Read the differences above and decide for yourself which of these two characters you are. Are you conducting business within the confines of the law and offering your customers a service? Or are you the shady guy outside of the arena looking for a quick buck?
I will strive to write every post on The Tickets Guide for the first guy.