<!– Place this tag in your head or just before your close body tag –> <!– Place this tag where you want the +1 button to render –>
Throughout my experience as a ticket broker, I've had a lot of practice answering the question "So, what do you do?" I tell them about my business, trying to stay away from phrases with a negative connotation–"ticket scalping," just to name one. I tell people that I buy tickets online and sell them for a profit. It helps my legitimacy when I tell them that I've been able to pay off my loans with the money that I've made selling tickets online, but inevitably the same question always, always comes up, and it usually sounds something like this: "Is selling tickets illegal?"
Of course, you know better. Ticket brokering is 100% legal and the National Association of Ticket Brokers has even worked with the government to maintain integrity in the ticket industry. Companies like StubHub and eBay make millions of dollars as the arbiters of tickets being bought and sold and if this practice were illegal in the slightest bit, there would be a huge crackdown, pretty much immediately. Becoming a ticket broker is a 100% legal, legit way to make a living. I was comfortable with this fact when I first started my business.
But something else bothered me.
Where I came from
I'm really not the kind of guy who would go into a business just to make money. Obviously that's a big part of it, but I try to hold myself to ethical standards before I jump into any business venture, and ticket brokering was no different. A standard I try to hold myself to is, "Would I be OK with someone else doing what I'm about to do?" And before I decided to take on ticket brokering, I was torn on this question. Is it right for people to buy tickets with the sole intention of selling them again?
Although I knew that selling tickets wasn't against the law, I knew what it felt like to leave Ticketmaster empty-handed, and I always thought to myself, "I bet those ticket brokers are laughing their way to the bank." Now that I'm a ticket broker myself, I'm realizing that I wasn't the only one who felt this disdain toward ticket brokers. Here's a post I found online by an anonymous writer, bashing ticket brokers:

As you can probably tell, the post is in reply to actual ticket brokers who were claiming that they provide a service to those who couldn't be on Ticketmaster when tickets went on sale, or for whatever reason weren't able to get tickets but still wanted to make the show.
Eventually I came to a conclusion, and I'm glad I did. I wouldn't want to sell tickets online with a guilty conscience, and I'm sure you wouldn't either. I mean, if you're going to feel bad about what you're doing, don't you think it's a better idea to just move on to something else?
In the end, after all my deliberation, the realization I came to was this:
Ticket brokers merely take advantage of the fact that venues purposely underprice tickets.
Truth is, if Madison Square Garden thought it was in their best interest to charge $300/seat, believe me, they would. The fact that front row Lady Gaga tickets could be had for "only" $75/seat isn't some kind of generous philanthropy on the part of MSG. No, they're actually convinced that it's financially in their favor to underprice tickets because, according to economist Gary Becker, they make more money in the long term by consistently selling out shows. This makes sense: concerts and sporting events are exciting mostly because of the fans that you're enjoying it with, and if a venue consistently has a sea of empty seats at every event, fans will soon stop buying tickets to their shows.
Comparison to other industries
If you think about how most other industries work, the same idea doesn't really apply:
Would Swiffer mops be any less effective if less people started buying them?
Would HDTVs look any less clear and sound any less crisp if not as many people purchased them?
Would vacation packages seem any less appealing if less people chose to buy them?
With most goods and services, it really doesn't matter how many other people are purchasing them. An MP3 player either works or it doesn't. A mattress either feels comfortable or it doesn't. A salad either tastes good or it doesn't.
But in the entertainment industry, the end goal isn't effectiveness or taste or even enjoyment: it's live enjoyment that people want. And yes, if less people started attending concerts, the concerts themselves would be less enjoyable.
Fan backlash
This is why the comment I quoted above by the anonymous poster doesn't really make sense. The fact is, you simply can't buy and resell bread because bread companies already price the bread as high as they can get away with. You can't become a "milk broker" because milk companies realize that it's in their financial interest to price their milk as high as they can get away with. It's a false analogy because there are different market forces at work in both examples.
A lot of fans complain about ticket brokers being "greedy" and even go as far to call them "scum," but when you think of it, every business you can think of exists first and foremost to make a profit. Venues are trying to make a profit by selling out every show and keeping their fans happy. Ticket brokers are trying to make a profit by selling tickets at their true market value. And most of the time, ticket brokers win because fans are willing to pay.
Other fans complain that ticket brokers sell tickets for "more than they were intended to be sold for." If this were really true, fans wouldn't buy them. The fact that fans are buying tickets from ticket brokers means that the prices are at market value, not above it. What's closer to the truth is that Ticketmaster sells tickets for below true market value, and ticket brokers fill in the rest.
Ticketmaster
A lot of fans don't realize that Ticketmaster has actually created a platform for ticket brokers to do business right on their site. Not only that, but they're making tons of money from it, too, all from buyer and seller fees. In essence, Ticketmaster is just another player in the ticket brokering game. Their service is called Ticketmaster TicketExchange.

See what it says right above "TicketExchange FAQ"? That's all you need to know.
My conclusion
Now, I'm not going to sit here and tell you that ticket brokers are God's gift to man and rave about how generous we are to be providing such a fantastic service to fans, although plenty of my customers have emailed me personally to thank me for the tickets they were able to buy. Like this one: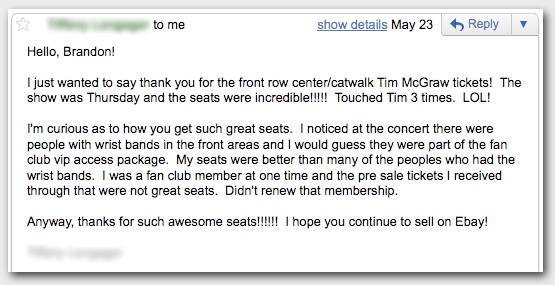 The way I see it, a business that doesn't have profit in mind isn't a business at all. Venues price their tickets at low prices because they find that to be the most profitable business strategy for them. I price my tickets at true market value because that's the business strategy that works for me. You should have no shame in selling your tickets for profit. Once you buy that ticket, it's yours and the law gives you full permission to sell it again.
That's how the business runs, and that's how all businesses in a free market like ours have ever run. And it won't stop any time soon.